Ziv Cohen
Chief Investment Officer, Resmark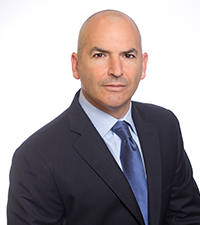 Mr. Cohen joined Resmark in 2001. With more than 25 years of real estate experience, he has been involved in the financing and development of over 15,000 residential units in the United States and Israel.
As Resmark's Chief Investment Officer, Mr. Cohen's responsibilities include overseeing all business development, investment, underwriting, due diligence, and asset management activities.
Under his leadership, Resmark's multifamily division has financed and developed over 6,000 units through joint venture and direct investments. Earlier, Mr. Cohen established the firm's Northern California division in 2003 and successfully expanded its Northern California operations. His responsibilities included evaluating and formulating strategy for the acquisition of large distressed bank portfolios. In late 2007, he also led Resmark's emergence as a key player in the area of direct investments in land portfolios.
Prior to joining Resmark, Mr. Cohen was a member of Fieldstone Communities' management team, where he was responsible for land acquisition and entitlements, product design, construction management, and sales and marketing operations for multiple projects.
Before arriving in the United States, he served as an operations manager for Peled Residential Construction, overseeing the day to day development of several master planned communities in Southern Israel, and prior to that as an officer in the Israeli Defense Forces.
Mr. Cohen sits on the National Association of Home Builders Multifamily Leadership Board. He received a Bachelor of Arts in Political Science from Tel Aviv University, and a Master of Business Administration from Pepperdine University.
---
Jerome Fink
Co-Founder and Managing Partner, The Bascom Group, LLC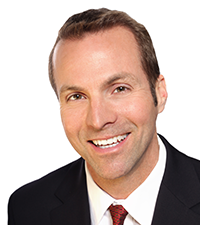 Jerome A. Fink is a co-founder & Managing Partner of The Bascom Group, LLC. Bascom has completed over $15.0 billion in multi-family and commercial value-added transactions since 1996 including more than 300 multifamily properties and 80,000 units. Bascom has ranked among the top 50 multifamily owners in the U.S. Bascom's subsidiaries and joint ventures include the Southern California Industrial Fund, Rushmore Properties, Bascom Portfolio Advisors, Shubin Nadal Associates, Spirit Bascom Ventures, REDA Bascom Ventures, MHF RM Holdings, Bascom Northwest Ventures, Bascom Arizona Ventures, Harbor Associates, Village Venture Partners, Bascom Milestone Ventures, and the Realm Group. Bascom's subsidiaries also include Premier Business Centers, the largest privately held executive suite company in the U.S.
Prior to founding Bascom, Mr. Fink acted as Senior Acquisitions and Sales Manager from 1991 to 1995 for Pacific Mutual Life Insurance Company. His responsibilities included market assessment, property identification and negotiation, and the acquisition and disposition of real estate investments.
Mr. Fink holds a Bachelor of Science in Electrical and Computer Engineering and a Master of Business Administration in Real Estate and Finance from the University of Wisconsin-Madison. He is a member of the Institute of Real Estate Managements (IREM) and Turnaround Management Association (TMA). Mr. Fink is a licensed real estate broker in the state of California, a Certified Commercial Investment Member (CCIM), a Certified Property Manager (CPM), a Certified Mergers & Acquisitions Advisor (CM&AA), and a Certified Turnaround Professional (CTP). He has appeared as a guest speaker at various functions, including those for the Urban Land Institute, University of California Los Angeles and Irvine, University of Southern California, and other assorted industry events. Mr. Fink previously served on the Board of Directors for the Wisconsin Real Estate Alumni Association and is currently a member of the USC Lusk Center for Real Estate Executive Committee.  He currently serves on the board for the Young Presidents Organization (YPO) California Coast and California Coast Gold chapters.
In 2004, Mr. Fink was awarded the Apartment Executive of the Year by the Real Estate Conference Group, the industry's largest and most prestigious multifamily conference on the West Coast, and was later awarded the Rising Star award by the University of California Irvine Center for Real Estate in 2008. Mr. Fink was also recognized in the 2011 Multi-Family Executive Magazine. In 2016, Mr. Fink was awarded the Ernst & Young Entrepreneur of the Year, Orange County.
---
Richard K. Green, Ph.D.
Director, USC Lusk Center for Real Estate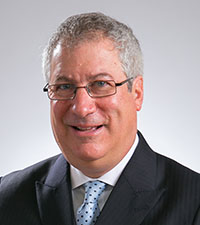 Dr. Green holds the Lusk Chair in Real Estate and is Professor in the Sol Price School of Public Policy and the Marshall School of Business. He recently finished a year as Senior Advisor for Housing Finance at the US Department of Housing and Urban Development, and as of July 1, 2016 became a Trustee of the Urban Land Institute.  Prior to joining the USC faculty, Dr. Green spent four years as the Oliver T. Carr, Jr., Chair of Real Estate Finance at The George Washington University School of Business. He was Director of the Center for Washington Area Studies and the Center for Real Estate and Urban Studies at that institution. Dr. Green also taught real estate finance and economics courses for 12 years at the University of Wisconsin-Madison, where he was Wangard Faculty Scholar and Chair of Real Estate and Urban Land Economics. He also has been principal economist and director of financial strategy and policy analysis at Freddie Mac. He is or has been involved with the Lincoln Institute of Land Policy, the Conference of Business Economists, the Center for Urban Land Economics Research, and the National Association of Industrial and Office Properties. Dr. Green also is a Weimer Fellow at the Homer Hoyt Institute, and a member of the faculty of the Selden Institute for Advanced Studies in Real Estate. He was recently President of the American Real Estate and Urban Economics Association. 
Dr. Green earned his Ph.D. and M.S. in economics from the University of Wisconsin-Madison. He earned his A.B. in economics from Harvard University.  His research addresses housing markets, housing policy, tax policy, transportation, mortgage finance and urban growth. He is a member of two academic journal editorial boards, and a reviewer for several others. His work is published in a number of journals including the American Economic Review, Journal of Economic Perspectives,  Journal of Regional Science, Journal of Real Estate Finance and Economics, Journal of Urban Economics, Land Economics, Regional Science and Urban Economics, Real Estate Economics, Housing Policy Debate, Journal of Housing Economics, and Urban Studies. His book with Stephen Malpezzi, A Primer on U.S. Housing Markets and Housing Policy, is used at universities throughout the country, and he recently published a book, Introduction to Mortgages and Mortgage Backed Securities. His work has been cited or he has been quoted in the New York Times, The Wall Street Journal, The Washington Post, the Christian Science Monitor, the Los Angeles Times, Newsweek and the Economist, as well as other outlets. He spoke at the 31st annual Federal Reserve Bank of Kansas City Economic Symposium, and he has testified before US Senate and House Committees, as well as California Assembly Committees. The National Association of REALTORS, the Ford Foundation, and the Lincoln Institute for Land Policy have funded grants to support some of Dr. Green's research. He consults for the World Bank.
---
Matt Horton
Associate Director, Milken Institute Center
Matt Horton is an associate director of the Milken Institute Center for Regional Economics & California Center. In this capacity, he interacts with government officials, business leaders, and other key stakeholders in directing statewide programming and policy initiatives while implementing the Center's strategic plan. He also analyzes policy developments at the local, state and federal levels while monitoring national and global trends for potential impacts throughout the regional economic landscape. Horton works to enhance the center's impact through its efforts to identify, promote, and scale best practices in public policy.
Horton's programmatic work at the Institute is focused on identifying a variety of financial tools, policies and collaborative models that leaders can deploy in order to increase investments toward education, community development and in other areas supporting human capital. Horton looks for establish best practices and conducts research that can inform effective governance practices and position leaders to explore place-based economic development through increases in housing supply, supporting high-quality job growth while prioritizing improvements throughout the built environment. Recently, he has written on how the opportunity zone tax incentive can help build a more inclusive economy.
Previously, Horton worked for the Southern California Association of Governments, the nation's largest metropolitan planning organization. Horton served as the primary point of contact for external and government affairs coordinating regional policy development with elected officials as well as sub-regional, state, and federal stakeholders in Los Angeles and Orange counties. In this role, coordinating with leaders across Southern California in developing plans to address growth, resiliency, and improve quality of life.
---
Con Howe
Managing Director, Cityview's Los Angeles Fund
Con Howe is Managing Director of CityView's Los Angeles Fund, which has built or renovated 21 projects with over 2500 units in Los Angeles County. CityView is an institutional housing investment firm active throughout California and the Southwest. Prior to joining CityView, Con was Director of Planning for the City of Los Angeles for 13 years, responsible for the Adaptive Reuse Ordinance, the Downtown Housing Incentive Ordinance and zoning codes that incentivized mixed-use, infill, small lot and affordable housing. Previously he was Executive Director of the New York City Planning Department, working extensively on Times Square and Lower Manhattan. He holds degrees from MIT and Yale University and taught a course in planning and redevelopment at USC. He serves on the Board of PATH Ventures, a non-profit which builds permanent supportive housing throughout California.
---
Malcolm Johnson
Executive Director, Community Banking, JPMorgan Chase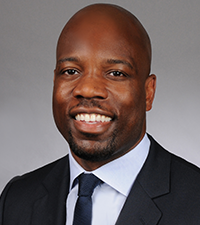 Senior executive in the Commercial Real Estate group at JPMorgan Chase & Co., leads the firm's efforts on a new platform focused on deploying equity into affordable and workforce housing projects in markets across the country. Also serves as senior coverage banker for JPMorgan's relationships with the largest national Community Development Financial Institutions (CDFIs), which are private institutions focused on community-based lending. Joined JPMorgan in 2012 as the senior coverage banker in the firm's Real Estate Banking group in Los Angeles, where he underwrote and arranged $3B in secured and unsecured debt financing for publicly traded and privately held real estate developers and investment firms.
Prior to joining JPMorgan, was a vice president at Bank of America Merrill Lynch, where he led $2.6B in financings for a number of prominent Los Angeles-based real estate companies. Previously worked as an internal consultant for PNC Bank on the integration of the company's residential mortgage division.
In 2015, Johnson was named one of LA's "Most Influential Lenders" by the Los Angeles Business Journal. In 2010, was honored with NAIOP's "Developing Leaders" award. Prior to his banking career, Johnson played professional football with the Cincinnati Bengals, New York Jets and Pittsburgh Steelers from 1999 – 2003. Has been a guest speaker for UCLA Anderson School of Business, University of Southern California Marshall School of Business, The Wharton School at the University of Pennsylvania, the National Football League and numerous schools and non-profit organizations in South Central Los Angeles and his native Washington, DC.
Executive co-sponsor for The Fellowship Initiative, JPMC's innovative mentorship program for young men of color. Serves on JPMorgan's Los Angeles Market Leadership Team, Sustaining Board for the UCLA Ziman Center for Real Estate, Board of Trustees for the Natural History Museum of LA County and the Corporate Advisory Board for The Brotherhood Crusade, a non-profit organization supporting low-income and underserved South LA residents. Received his MBA from Carnegie Mellon University and BBA from the University of Notre Dame.
---
Kevin J. Keller, AICP
Executive Officer, Los Angeles City Planning
Kevin J. Keller is the Executive Officer for the Los Angeles City Planning. In this role, he oversees the internal department operations including long range planning, project planning, administration and budget. Coordinating the work of the executive team, Kevin is directly shaping Los Angeles' update program for its 35 community plans, its comprehensive General Plan update, and its zoning code update. Before his promotion to Executive Officer, he was the Deputy Director for Long Range Planning, overseeing the work of the Community Planning, Citywide Planning, Historic Preservation, Urban Design, and Code Studies divisions of the department.
Kevin's career with the City of Los Angeles began in 1999. He has since held a number of planning roles, including serving as a Senior Planner, managing the Central Los Angeles, Westside, and San Fernando Valley regions, and then working as the Director of Planning and Housing Policy for Los Angeles Mayor Eric Garcetti. In this position, he was the chief advisor to the Mayor on land use, development matters, and housing programs, and managed a team within the Mayor's Office of Economic Development – working closely with General Managers of related city departments to coordinate city planning initiatives, and attracting investment opportunities through improved development services.
Kevin holds a master's degree in urban planning from the Harvard Graduate School of Design and has an undergraduate degree in environmental studies from the University of California Los Angeles. He has served as Section Director for the Los Angeles American Planning Association and President of the California Chapter of the American Planning Association.
---
Sharon Lee
Executive Director, Low Income Housing Institute
Sharon Lee is the founding Executive Director of the Low Income Housing Institute (LIHI), a non-profit organization based in Seattle founded in 1991. LIHI develops and operates housing for low-income and homeless people and provides supportive services to assist residents in maintaining stable housing and increasing self-sufficiency. Sharon oversees a staff of 180. LIHI staff has developed over 4,500 units of rental and homeownership housing. LIHI owns over 2,200 units serving individuals, families, seniors and those with special needs. She is an advocate for housing justice. LIHI has pioneered the creation of tiny houses villages to shelter over 1,000 homeless people per year. Sharon holds a Master of Architecture and a Master of City Planning from M.I.T. and a B.A. with honors from the University of Pennsylvania. She was awarded an Honorary Doctorate of Humane Letters from Wilkes University for her work on ending homelessness. LIHI's housing has won national and local awards for design excellence and environmental sustainability.
---
Greg Morrow
Executive Director, Real Estate Development + Design, Faculty In City And Regional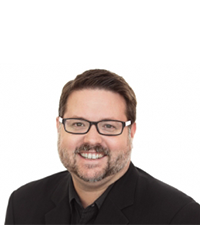 Greg joins CED from Pepperdine University where he served as Executive Director of the Sands Institute of Real Estate, Academic Director of the Master in Science of Real Estate program, and Fred Sands Executive Professor in Real Estate. Previously, he was the Richard Parker Professor in Metropolitan Growth & Change at the University of Calgary, a joint appointment in the Haskayne School of Business and Faculty of Environmental Design. 
His research interests and teaching is in the areas of real estate development, housing, metropolitan growth, and sustainable community development. He has served on the Calgary Planning Commission, LA County Homeless Initiative (Measure H) Citizens Oversight Advisory Board, and ULI LA Leadership Council. He has a Ph.D. from UCLA in urban planning, an urban design certificate and masters in city planning and architecture from MIT.
---
Jason Neville
CEO, Building Blocks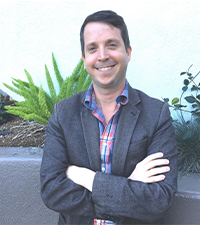 Jason Neville is CEO of Building Blocks, a Los Angeles-based company that designs, permits, and builds ADUs for homeowners. He is an alum of Mayor Eric Garcetti's Innovation Team, where as senior project manager he helped lead the development of a suite of initiatives to reduce residential displacement in rapidly changing neighborhoods, including a project to design and build a prototype ADU to demonstrate affordability and context-sensitive design. Additionally, he helped the City of Los Angeles secure grant funding for programs to incentivize homeowners to rent their ADUs to low income residents. Jason is involved in the development of other small scale infill housing, such as the first Bungalow Court project in Los Angeles in over 70 years, which will be 100% affordable for formerly homeless residents (through the nonprofit affordable housing organization Restore Neighborhoods Los Angeles).
---
Amalia Paliobeis
Senior Director of Real Estate, Common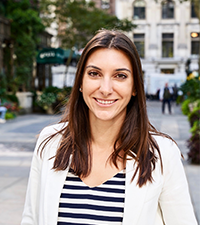 Amalia Paliobeis is a Senior Director of Real Estate for Common, the nation's leading residential brand enhancing the quality of living for members and value of real estate for partners through convenience and community across the country. Amalia leads all of Common's Real Estate Partnerships on the West Coast, and has been instrumental in solidifying Common's 1,500+ bed pipeline in Los Angeles.
Previously, Amalia worked at Regent Properties, a Los Angeles based investor/developer with over $1 billion in assets under management, focusing on acquisitions, fundraising, finance and portfolio management. Before Regent, Amalia worked at Barclays Capital, conducting financial analysis and investment reporting, and in Deloitte's Merger and Acquisition Transaction Services group, where she performed due diligence for real estate transactions ranging from $100 million to $15 billion. She is on the Urban Land Institute's LA Leadership Council and is a Center Member of the USC Lusk Center for Real Estate. Amalia earned an MBA from The Wharton School at the University of Pennsylvania and a BS from the University of Southern California.
---
Christopher Thornberg
Director and Adjunct Professor, UC  Riverside School of Business Center for Economic Forecasting and Development / Founding Partner, Beacon Economics LLC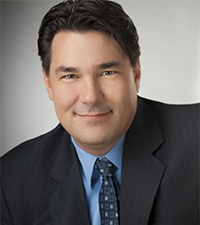 Christopher Thornberg is Director of the UC Riverside School of Business Center for Economic Forecasting and Development and an Adjunct Professor at the School. He is also the Founding Partner of Beacon Economics LLC.
An expert in economic and revenue forecasting, regional economics, economic policy, and labor and real estate markets, Dr. Thornberg has consulted for private industry, cities, counties, and public agencies in Los Angeles, San Francisco and the Bay Area, San Diego, the Inland Empire, Seattle, Orange County, Sacramento, Nevada, and other geographies across the nation.
Dr. Thornberg became nationally known for forecasting the subprime mortgage market crash that began in 2007, and was one of the few economists on record to predict the global economic recession that followed. In 2015, he was named to California State Treasurer John Chiang's Council of Economic Advisors, the body that advises the Treasurer on emerging strengths and vulnerabilities within the state's economy. From 2008 to 2012, he served as economic advisor to the California State Controller's Office, and as Chair of then State Controller John Chiang's Council of Economic Advisors.
Well known for his ability to capture and hold audiences, Dr. Thornberg has presented to hundreds of leading business, government, and nonprofit organizations across the globe including Chevron, The New Yorker, Colliers International, the California Chamber of Commerce, City National Bank, the California State Association of Counties, State Farm Insurance, the City of Los Angeles, the California and Nevada Credit Union League, and the National Steel and Shipbuilding Company, among many others. He has testified before the U.S.
Congress House Committee on Financial Services on municipal debt issues, before the California State Assembly Committee on Revenue and Taxation regarding rule changes related to Proposition 13, and before the Los Angeles City Council about proposed changes to local minimum wage laws.
Dr. Thornberg is a panel member of the National Association of Business Economists' quarterly "Outlook," and a contributor to monthly economics polls published by Reuters. He also serves on the Boards of Directors of both the California Chamber of Commerce and the Los Angeles Area Chamber of Commerce, and is an Executive Member of the Central City Association (Los Angeles). Prior to launching Beacon Economics Dr. Thornberg was a senior economist with UCLA's Anderson Forecast. He previously taught in the MBA program at UCLA's Anderson School, in the Rady School of Business at UC San Diego, and at Thammasat University in Bangkok, Thailand. He has also held a faculty position in the economics department at Clemson University.
A  well-­‐known  media  commentator,  Dr.  Thornberg  has  appeared  on  CNN  and  NPR  and  is regularly quoted in major national dailies including the Wall Street Journal and New York Times. Originally from upstate New York, Dr. Thornberg holds a Ph.D in Business Economics from The Anderson School at UCLA, and a B.S. degree in Business Administration from the State University of New York at Buffalo.
---
Martha Welborne, FAIA
Senior Advisor, HR&A Advisors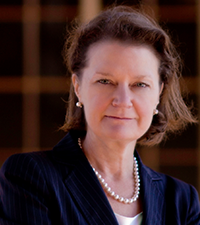 Martha Welborne, FAIA, is currently a Senior Advisor in the Los Angeles office of HR&A Advisors, an industry-leading real estate, economic development and public policy consulting firm. In this role, Ms. Welborne's primary focus is on the implementation of complex public/private projects for institutional, private sector and governmental clients. Prior positions in the past two decades include: Senior Vice President for Global Corporate Real Estate for the Walt Disney Company; Chief Planning Officer for the Los Angeles County Metropolitan Transportation Authority; and Managing Director of the Grand Avenue Committee.
Prior to her work with the Grand Avenue Committee, her career as an architect and urban designer included nearly 20 years of leadership positions with Skidmore, Owings & Merrill and Sasaki Associates. Her work at those firms ranged from individual building design through large-scale master planning of university campuses, downtown development plans, and transit corridors.
Ms. Welborne received a Bachelor of Architecture from the University of Notre Dame and both Master of Architecture in Advanced Studies and Master in City Planning degrees from the Massachusetts Institute of Technology. She also was a Loeb Fellow at Harvard University's Graduate School of Design. She is a member of the College of Fellows of the American Institute of Architects and has served as the President of the Los Angeles Chapter of the AIA. She currently serves on the Board of Councilors of KUSC, Southern California's premiere classical radio station, and she has previously served on the Board of Councilors of USC's School of Architecture.
---
Heather Worthington
Director, Long Range Planning, City of Minneapolis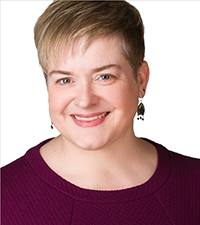 Heather was appointed to the position of Director of Long Range Planning in September, 2017. Her team led the creation, engagement, and policy adoption of the Minneapolis 2040 Comprehensive Plan. Previously she was the first Deputy County Manager appointed in Ramsey County in June 2010, where she led the Economic Growth and Community Investment service team. She was the overall project manager for the cleanup and redevelopment of the Twin Cities Army Ammunition Plant (TCAAP), the state's largest Superfund site; as well as leading the redevelopment of the former West Publishing site in downtown St. Paul.
With more than 20 years of leadership in local government organizations, including City Administrator of Falcon Heights, MN and Assistant City Manager of Edina, MN, Heather is committed to seeking authentic community engagement and leading racial equity efforts to strengthen communities that have experienced disparities, disinvestment and marginalization. She holds a master's degree in public administration from Hamline University, a BA in History/Historic Preservation from Michigan State University, and a certificate for the State and Local Executives Program from Harvard University's Kennedy School of Government.